Background: During SHIMMER Volume 48, "Sweet" Saraya Knight (mother of WWE's Paige) took her mulit-year blood feud with Cheerleader Melissa to another level by attacking her before their title match; resulting in Knight dethroning Melissa as the fourth SHIMMER champion in history. After besting a Saraya-led team two events later and earning another title opportunity, Cheerleader Melissa challenged Saraya Knight to one final match during SHIMMER's iPPV debut – inside a Steel Cage.
SHIMMER Volume 53
Secaucus, NJ
April 6, 2013
Saraya Knight vs. Cheerleader Melissa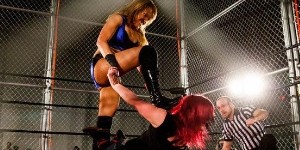 The initial collar & elbow tie up quickly deteriorated into a brawl until Melissa smartly went after the cause of this long feud: Saraya's surgically repaired left leg. The fans rallied behind Melissa as she slammed and kicked the champion face first against the steel cage. Moving upward during the fight, both women ended up on top rope; slugging it out until Melissa threw a kick and was yanked to the canvas. But hatred was enough to help the challenger recover quickly and kick Saraya's face into the cage again. But these most recent kicks were a lot weaker than the original strikes, forcing Melissa to punch her way to an advantage. Tying the legs of Saraya behind her, the challenger had her belligerent opposition nearing a submission loss. When Melissa realized Saraya wasn't giving up, she pulled the champ upward to execute that dreaded Curb Stomp … for a two count!
Since the first Stomp worked so well, Melissa utilized the attack again. Taking too much time pandering to the pleased crowd cost Melissa; giving Saraya the chance to claw her challenger's face when she neared. Saraya's focus shifted from Cheerleader Melissa's legs to her torso as the attacks moved up and down; from stomach to groin. The champ hoisted the challenger onto the turnbuckles, using a superplex to drive Melissa on her neck. The attack only downed Cheerleader Melissa for a couple of seconds, giving the fans a chance to cheer on the challenger once again. The energy Melissa felt surged through her fists as she caught Saraya with a series of punches that put her in position for the Air Raid Crash … and another near fall!
Melissa couldn't believe how close that near fall was, but still had something up her sleeve. Melissa started scaling the cage, only to have the champion grab her while standing on the top rope. Melissa fell backwards, executing a super hurricarana! The fans were on their feet as Melissa rallied to hers. Quickly climbing the ropes, Cheerleader Melissa demanded Saraya to rise so she could missile dropkick her for another Air Raid Crash … and the three count! New champion!
Winner: Cheerleader Melissa (14:41)
Is It A Classic: Such a fitting end to one of SHIMMER's most personal feuds. While not the greatest, bloodiest, or barbaric cage match in history, these two women brought the hate that is rarely experienced in a wrestling match nowadays. A fantastic way to conclude such a historic weekend for the company and start a new chapter in the existences of Cheerleader Melissa, Saraya Knight, and SHIMMER itself.