Background: After reforming, the former NWA Tag Team champions in Triple X of Senshi (Low Ki) & Elix Skipper had the opportunity to become champs again by fighting fellow former titleholders Homicide & Hernandez in a number one contenders Ultimate X match.
Bound for Glory
Duluth, GA
October 14, 2007
Senshi & Elix Skipper vs. LAX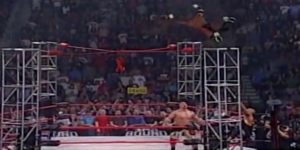 And dey was a clubberin' early as the fans chanted, "T-N-A!" After taking out Senshi on the floor, Hernandez propelled over the top rope to wipe out Skipper as Elix battled Homicide. As Hernandez tried to direct traffic, Senshi came off the ropes to knock the big man down, taking Homicide off the ropes holding the giant "X" symbol to declare the winners, and almost drop Hernandez on his head. Hernandez recovered, executing a backbreaker on Skipper following a huge hip toss on Senshi. The fans were going wild as Homicide tried to shimmy across the ropes for a quick victory. Senshi stopped Homicide's movement by kicking him to the canvas, leading to another fistfight between all four men. Picking up the pace cost Homicide was he ran into an overhead belly to belly suplex by Skipper. The pounce from Hernandez sent Senshi flying to the floor put the former Low Ki in position for Homicide's tope con hilo. In the ring, Skipper was tossed across the ring courtesy of Hernandez and a Mexican flag. Showing his incredible agility, Hernandez tried to make his way to the X. Unfortunately for Hernandez, he got dropkicked in the back. Quickly recovering, Hernandez power bombed Senshi to stop him from winning this one as Homicide and Skipper fought on one of the trusses. Stuck atop the steel, Skipper decided to dive and take out Hernandez by jumping some twenty feet down so he could cross body block Hernandez.
As the fans rightfully chanted, "This is awesome!" Skipper and Homicide met on the ropes while both going for the X; resulting in a double neck breaker that put both men on the canvas. Hernandez was the first to rise, helping Homicide up the truss. Senshi soon followed, leading to fight that concluded with Homicide being shoved in position for the Ghetto Stomp. With a frenzied crowd cheering him on, Hernandez decided he wanted to dive. Skipper stopped him at the pass, only to be crushed and Border Tossed to the floor on top of both Senshi and Homicide! Hernandez made the climb, pulling down the X to win this one for his team.
Winner: LAX (11:57)
Is It A Classic: What an exhilarating way to kick off a show. While it's not the greatest or most memorable Ultimate X, it hit all the right notes in front of a hot crowd and provided something exceptionally memorable to start the event. Highly entertaining and an example of what happens before a concept gets watered down.