Background: Rick Rude had gone out of his way to antagonize ECW World champion Shane Douglas throughout much of 1997 (mostly to get in the pants of Douglas' valet, Francine). Rude also found opponents looking to unseat Douglas for his title. Eventually, Rick Rude convinced Douglas' fellow Triple Threat teammate Bam Bam Bigelow to challenge "The Franchise" rather than play the champ's bodyguard so Douglas could remain a champion.
Hardcore TV
Queens, NY
October 16, 1997
Shane Douglas vs. Bam Bam Bigelow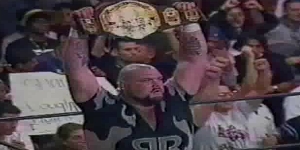 The challenger was looking to hold no quarter when the bell rang and he spent the first few minutes punching and hip tossing his friend. Right hand after right hand from Bigelow set up a gorilla press slam over the top rope, to the floor for Douglas. Shane Douglas, realizing agility would help him win rather than throwing bombs, threw not one, but two dropkicks. Big cross body block from Douglas put Bigelow on his back for the first near fall of this match. Impressive vertical suplex by Shane actually did more damage to him than his challenger. Showing no honor, Douglas used a low blow to keep control of this bout.
Douglas, as seen many times before, got ahead of himself, mouthing off rather than staying on his opponent. Bigelow made Douglas pay with the Rude Awakening. Follow up Diving Head-butt missed for Bigelow, but not his DDT. Hoisting the stunned Douglas to his feet, Bigelow power bombed "The Franchise" … for the three count! New champion!
Winner: Bam Bam Bigelow (6:51)
Is It A Classic: Not a classic bout, but an interesting nonetheless. It was great seeing Shane Douglas get was what coming to him at the hands of a man he had held back for his own professional gain. A majority of the bout was Bigelow decimating Douglas before the champ attempted a comeback that would inevitably lead to his demise. A great showcase of just how unpredictable the original ECW was.