(Make sure you read part one) It's been over twenty years since I can remember the first time I saw Matt Groening's "crudely drawn" family of five deal with the almost surreal problems that life seemingly presents on a daily basis. From that moment I laid my eyes on "The Simpsons" I became enamored and, eventually, a life-long fan (more than likely I'll be re-watching episodes when I'm old enough to shout at clouds). During my time as a "Simpsons" viewer I've discovered many relatable life lessons that I plan to share with you. Welcome to "The Simpsons Life Lesson" series (season one – part two).
Envy Can Cost You Your Life (or Your Dignity) (Episode 7: "The Call of the Simpsons")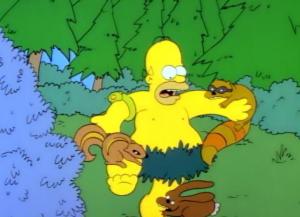 On one random Saturday morning, Homer heard the honking sounds of a large motor vehicle. Homer turning from his gardening duties discovered his neighbor Ned Flanders driving an experience recreational vehicle (RV) toward their respective homes. Hoping to outdo his neighbor after envy set in, Homer went to the same place Ned bought his latest vehicle from; only to discover how low quality of a vehicle he'd have buy if he didn't want to walk/drive away empty-handed. Of course Homer made the pitiful purchase, but wasn't done with his one-upmanship by simply buying a RV. Homer had to show off by taking his family on a camping trip (the one thing Flanders hadn't done up to that point).
Shockingly enough, the RV itself wasn't the biggest problem in Homer's plans, but ego as he went off road in hopes of saving time on the trip to the woods. The RV crashed, blew up and left the family stranded with nothing but the clothes on their backs and Homer's "ingenuity" when it came to survival.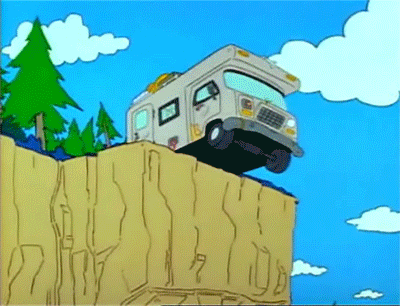 Lose your clothes in a raging river? Create some underwear with leaves and mud. Hungry? Steal honey from an active beehive. Being chased by those angry bees? Jump into a mud pit. Mistaken for the legendary creature Bigfoot? Be embarrassed for a long, long time thanks to news networks seemingly having nothing else to report. It's easy to be jealous of someone having something you like or want, but don't let that envy overtake good judgment, common sense and destroy your life as you know it.
Check the Police's Most Wanted List When Hiring a Babysitter (Episode 13: "Some Enchanted Evening")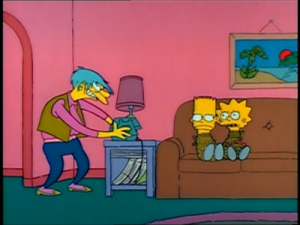 After discovering his wife had become frustrated with a lack of respect and appreciation for everything she did for the family, Homer took it upon himself to take his wife out for a night on the town. But Homer forgot about one problem: their kids. Calling a babysitter service, Homer hired a rather scrupulous, droopy, slew footed, almost hunchbacked lady carrying two suitcases for no explained reason.
When Homer and Marge left, the babysitter disappeared as Bart and Lisa took a chance to watch the "America's Most Wanted"-like late night show "America's Most Armed and Dangerous". Conveniently enough, the night's episode highlighted the "Babysitter Bandit". And wouldn't you know it, the robber looked just like the Simpsons' current house/child keeper.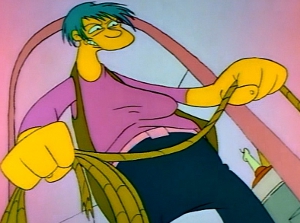 The children would spend the evening's majority avoiding the alias-using thief while trying to save their little sister Maggie. But Maggie would be the one who saved her older siblings by untying them and helping Bart bash Ms. Botz (the bandit) in the head with a baseball bat. Homer and Marge would return home early to find it occupied by the captured babysitter as the children had gone out to call the police about what happened (Ms. Botz cut the phone line). Homer unknowingly freed the criminal before his children could alert him about what just happened – giving her the chance to scurry away with jewelry, silverware and the like.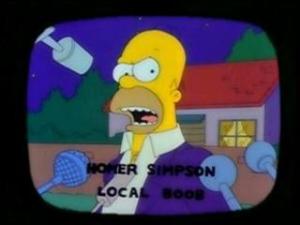 So when you plan to hire a babysitter, do your research (even if it means checking out a "Most Wanted" list). And parents – make sure you listen to your kids. You never know if they're telling you whether or not you've been robbed.
Your Family Will Let You Down (Episode 3: "Homer's Odyssey"; Episode 4: "There's No Disgrace Like Home"; "Episode 6: "Moaning Lisa"; Episode 9: "Life on the Fast Lane")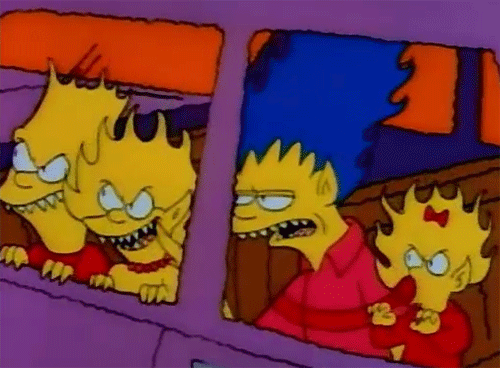 For Homer, his family in general reinforced the validity if this life lesson. During his company's annual picnic, Homer watched his son and daughter act a complete fool (such as Lisa pretending to be a fountain ornament while spitting fountain water), and his usually sober, close-minded wife becoming a drunken mess before leading a Broadway-style musical alongsider her fellow bored, inebriated wives. Homer, disgusted by the deterioration of an already irregular family (they actually become peeping toms to see how bad of a family they really are compared to others), takes his quartet to therapy. The session went so terribly that it left the therapist screaming for help as the town's power almost went out.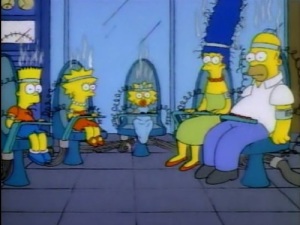 But Homer wasn't blameless. Poor Bart watched alongside his entire class the day his father got fired from his job in the nuclear power plant thanks to Homer's penchant for eating donuts while driving around in a cart. Homer also had a hard time appreciating his daughter's musical gifts as a saxophone player. Homer's biggest fault during the initial season had to be taking his wife for granted.
Marge, being a pillar in the family with her constant housework and emotional support, found her birthday being soured by her husband's lack of thought when it came to a present. The fragile Marge watched a bowling ball with the name "Homer" engraved in it crash into her birthday cake. In spite, Marge took the ball for herself and started bowling thanks to the help of a suave pretty boy with an accent. Feeling the passion of bowling move beyond the lanes, Marge had to choose between her family and her admirer. The decision was a tough one for Marge thanks to the previous actions of her husband.
Like Homer, Marge didn't bat a perfect game when it came to parenting and being a good wife. Of course there was Marge's drunken escapades at Burns Manor, but Marge also almost hindered the emotional expression of her daughter. In the "Moaning Lisa" episode, Marge thought back to her days as a little girl where her mother insisted little Marge smile no matter what (because a child's smile shows the world just how great a parent someone is). Marge tried to instill the same ideals in her daughter, only to discover just how wrong Marge and her mother were in their mutual attempts at suppressing their respective offspring's feelings.
Your family won't be perfect, or "normal", or even worth tolerating from time to time, but what family is? Without the chaos and uncertainty about what your family will do next, one will have a hard time relishing the unexplainable joy of being around a group of people who love you when everything goes right.