(Make sure you read part one) It's been over twenty years since I can remember the first time I saw Matt Groening's "crudely drawn" family of five deal with the almost surreal problems that life seemingly presents on a daily basis. From that moment I laid my eyes on "The Simpsons" I became enamored and, eventually, a life-long fan (more than likely I'll be re-watching episodes when I'm old enough to shout at clouds). During my time as a "Simpsons" viewer I've discovered many relatable life lessons that I plan to share with you. Welcome to "The Simpsons Life Lesson" series (season two – part two).
Marriage Takes Sacrifice (Episode 20: "The War of the Simpsons")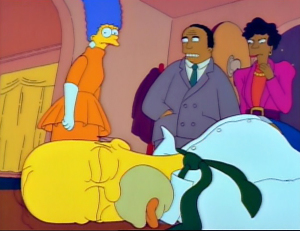 Homer Simpson likes to drink … a lot. The alcoholic father of three had the opportunity to put his willpower to the test during a party he and his wife hosted. It didn't take long before Homer was drunk off his gourd, barely able to blink, form coherent sentences and avoid ogling his neighbor's wife's cleavage while she served peanuts. Frustrated over Homer's actions, Marge surprisingly signed up for Mr. & Mrs. Reverend Lovejoy's "Third Annual Marriage Retreat" at Catfish Lake.
Excited about the locale's name, Homer sneakily prepared himself for some solo fishing and, eventually, hooking the infamous gigantic catfish, General Sherman. Yep, Homer planned to help his marriage by being away from his wife. That feeling of wanting to fish over sitting in a circle of couples and listening to Marge's voice grow hoarse while bringing up Homer's many, many flaws won out regarding Homer's decision about spending the morning with or without his wife. After doing the impossible and actually capturing the general, Homer was confronted by Marge and reminded just how much that fish represented the deterioration of their marriage. Homer, stunned by his wife's words, actually tossed General Sherman off of his boat just to prove how much he loved Marge.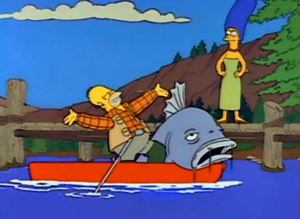 To truly have a successful marriage, one must sacrifice him or herself on a consistent basis; be it a lowering of their pride, the ability to drink during a house party, or releasing a fish that could bring you fame and fortune into the waters from wince it came. Come here, baby!
The Lacking of a Moral Ending (Episode 22: "Blood Feud")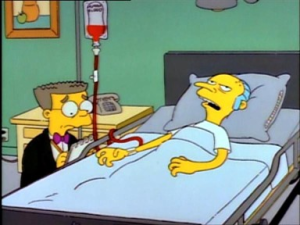 "The Simpsons" history-making second season ended with an episode heavy with ethical and moral dilemmas. Springfield's resident miser and nuclear power plant owner Mr. Burns found himself suffering from hypohemia (a fictional condition in which the body naturally runs out of blood, though it is akin to a real condition called hypovolemia). Having the ultra-rare double-O-negative blood type, Mr. Burns seemed to be near death's welcoming door. That was until Homer discovered (through Marge's extensive knowledge of her family) Bart also had O negative blood.
Convincing his son to donate, Homer believed Mr. Burns would reward his savior and the Simpson family greatly. Seemingly not understanding how much Mr. Burns thought his "thanks" was worth more than gold, Homer eventually wrote an angrily worded, disrespectful letter (mailed by Bart after Homer cooled his emotions). Mr. Burns reading the letter would set off a series of events that eventually saw the wealthy individual realize how much Bart deserved a true reward. No, not money. Instead, Mr. Burns presented the Simpsons with an antique Xtapolapocetl statue (an Olmec head).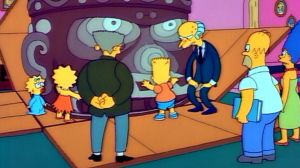 Sitting in front of the large, carved piece of stone, Marge tried her best to wrap up what happened to her family in a moralistic quotable. But phrases such as, "A good deed is it's own reward," and, "The squeaky wheel gets the grease," didn't make any real sense; leaving Lisa to boldly admit that there was no moral to the story. And you know what, Lisa was right; not just regarding the episode, but life in general.
No matter how hard television, movies and various other forms of entertainment try to depict meaningful resolutions to all of life's circumstances, truth is there are times when your life's stories have no real moral value – being nothing more than a string of random events. But just because you can't walk away feeling you've learned something or grew doesn't mean those not-so-precious moments don't make for an entertaining experience.
Life is Short: (Episode 8: "Bart the Daredevil"; Episode 10: "Bart Gets Hit by a Car"; Episode 11: "One Fish, Two Fish, Blowfish, Blue Fish"; Episode 17: "Old Money")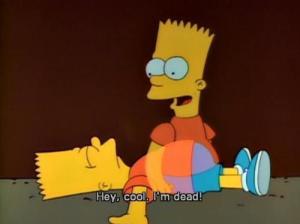 Several times during season two did the Simpson family face their own animated mortalities. Little hellion Bart Simpson's usual skateboard-assisted trip through the town inexplicably ended with him tempting fate one time too many by skateboarding in front of oncoming traffic. The end result of Bart being hit by Mr. Burns' car was the young lad had a chance to visit (Hieronymus Bosch's) Hell (mostly because he over the side of a golden, heavenly escalator). Bart would make it out of the burning pit thanks to Satan discovering the boy wasn't meant to die for many years from that moment. The funny thing about Bart was his lack of learning about mortality in the season thanks to an event that occurred a couple of episodes prior.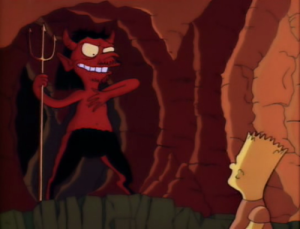 Attending a Monster Truck event saw Bart become enamored not in the giant metal behemoths crushing cars (including his family's own), but the actions of professional daredevil Lance Murdock. Though Murdock failed to complete his jump over a pool of sharks and was practically torn to shreds and left hospital-ridden, Bart obsessed over being the next big thing in daredevil action thanks to his skateboard jumping over various objects including people. But nothing enticed Bart more than sailing from one point of Springfield Gorge to the other. Homer, hearing about Bart's intentions through Lisa, confronted his son and convinced him to not jump. Sadly for the protecting father, he took Bart's spot on the skateboard during their heart-to-heart conversation, losing his footing and sailing off the gorge before colliding with the jagged rocks below. Like Murdock, Homer lay in a hospital bed, bandaged from head to toe; but alive.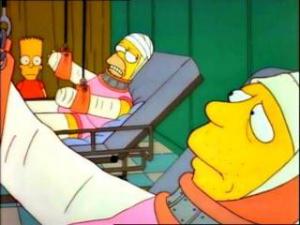 Though falling hundreds of feet and hitting many rocks over and over again might seem like the worst near-death experience one man could have, Homer, taking his daughter up on the suggestion of eating at a sushi bar, decided to try a piece of fugu (the Japanese word for "puffer fish" and the dish made from said fish). Poor preparation can cause the meal to turn deadly for the eater. Of course, Homer found himself eating from an inexperienced cook and believed he would see the end of his short life thanks to one of his few passions: eating. Of course Homer lived, but the health scare left the Simpson's patriarch proclaiming he'd live life to its fullest (by watching bowling on TV while eating a bag of pork rinds).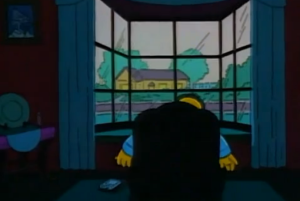 Not even Abraham "Grandpa" Simpson could get away from death. Though his nursing home residency was lacking the common essentials to take care of a group of men and women in the twilight of their lives, Abe didn't experience the sight of his friends or loved ones dying in the "home" until he became romantically involved with a random fellow resident, Beatrice Simmons. Being forced into a trip to the local "discount safari", "Grandpa" couldn't be there for Simmons' final birthday, as she died the same night thanks to a burst ventricle (but Abraham was convinced she died from a broken heart).
If there's one thing his season emphasized better than the first is the fact that life can be short due to circumstances beyond one's control – even if it's from being hit by a car to inadvertently eating something that could eventually kill you. Appreciate every day because you never know when you could be falling off a cliff thanks to your daredevil-inspired son.