Background: Exactly one month prior to Total Nonstop Action's annual all-Cage match event, Mick Foley bludgeoned TNA Heavyweight champion Sting with a steel chair to help Foley's team of himself and Jeff Jarrett defeat "The Stinger" and Kurt Angle. As a result, Sting challenged Foley to a match at "Lockdown" where Sting's title would be on the line.
Lockdown 2009
Philadelphia, PA
April 19, 2009
Sting vs. Mick Foley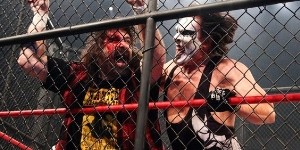 The challenger entered with his favorite barbed wired bat. After the boxing style in-ring introductions, referee Earl Hebner took the bat away from Jack. Mick threw the first punch … to himself until he started bleeding from his freshly cut forehead after last week's attack. Mick made a climb, only to be knocked from the top rope. Sting stayed on top Mick, sending Foley's face against the steel. Foley fired back, knocking Sting around the ring until he got knocked off his feet. Once again, Sting stopped Mick's ascent, belly to back superplexing Mick to the mat. Jack was able to kick out of Sting's follow up pin, leading to Mick fighting his way across the ring until Sting was sitting in the corner. Foley looked back when he made it to the top rope, only to get chop blocked and hung by his left leg between the cage and the ropes. Sting watched as Foley rolled, clutching his left ankle. Sting honed in on the weakened appendage, using all of his weight to injure Jack further. Even with one leg, Foley continued to make his escape. Foley reversed the Irish whip, sending Sting's painted face against the steel.
Foley tried to get the blood circulating through his leg again before neck breaking Sting for a two count. Even on one leg, Foley continued to scale his caged prison unsuccessfully. Double arm DDT by Foley got him a two count. Foley decided to go one step further by putting Sting in the Scorpion Deathlock. But Foley's knees didn't allow him to keep his balance. Foley ordered the door to be open, even though he's the one who wanted the door chained shut. Foley hobbled across the ring, dropkicking a cameraman through the cage's camera hole. This was done so he could climb through the hole, which actually was big enough for Mick to fit through. Sting grabbed Foley's legs before he could slip out, putting Mick in the Scorpion Deathlock.
Mick clawed to the hole, demanding the barbed wire bat. The cameraman he knocked down did as he was ordered. Sting turned around, meeting the bat. Sting ducked Foley's wild swings, punching Foley off his feet before scaling the cage. Foley swung his bat into Sting's left leg. Mick stumbled to his feet, only to get drop toe hold into wired bat. Mick held his hand and face after hitting the wire. Sting picked up the bat, clobbering Mick in the chest, stomach, and back. Sting tried to rake Mick's face with the wired bat, but got kicked in his testicles instead. Mick ran across the ring, batting Sting's face, twice. Blood started to pour from the top of Sting's head as Mr. Socko came out to play. With Sting sitting against the turnbuckles, Mick rushed the champ, driving barbed wire into Sting's face with his knee. Mick made his climb, getting over the cage. Sting tried to chase Mick, but Foley dropped before Sting could. Mick Foley is the new TNA World champion.
Winner: Mick Foley (15:54)
Is It A Classic: Sting and Foley put on a solid and commendable effort in their match, but it just felt like what it was: two men past their primes, doing stuff they shouldn't be doing because no one else gets the opportunity to. I will not say it was a horrible main event. I've actually seen worse involving men ten years younger than these two during bigger events (Wrestlemania 25, anyone). But that doesn't take away the fact that this was an underwhelming way to end a show.