Background: After much negotiating, Steve Corino leveraged a ECW World Heavyweight title match for his "Rookie Monster" Rhino.
ECW on TNN
Columbus, GA
June 17, 1999
Taz vs. Rhino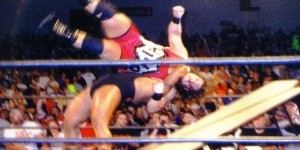 After telling Rhino he was going to beat the crap out of him, it was Taz who got jumped. Power bomb by the champion only fired Taz up. Rhino bounced off the ropes, running into a sick clothesline. Taz followed the fleeing Rhino out of the ring, beginning an onslaught that featured Taz suplexing the challenger on his head and off the top rope. The fans were going crazy as Taz continued this one-sided beating. The champ gave them something even more to cheer for by retrieving a table. Half-nelson Tazplex through the table on Rhino brought the crowd to its feet. Taz signaled for the end and finished Rhino with the Taz Mission submission choke.
Winner: Taz (3:20)
Is It A Classic: A pure massacre. Seeing the much bigger Rhino decimated by Taz just reinforced how tough and dominating Taz was during that time. Not a great match from a technical aspect, but the closest you'll get to watching a Roman coliseum-style event without the lions and murder.