Background: After years of inactivity in the WWF (mostly due to reconstructive surgery to his face), Brutus "The Barber" Beefcake made his in-ring return against one-half of Money Inc. in "The Million Dollar Man" Ted DiBiase
Monday Night Raw
New York, NY
February 15, 1993
Ted DiBiase vs. Brutus Beefcake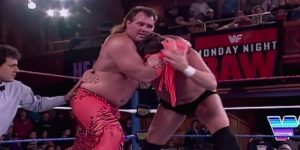 DiBiase didn't take kindly to his opponent's playful strutting; turning this one into a brawl that he didn't win as he was knocked to the floor. Shockingly, Beefcake wanted to actually wrestle the more skilled grappler. But the side headlock was meant more to set up more right hands aimed at the jaw of the moneyman. Irwin R. Schyster decided he wanted to give his partner some moral support. Actually, IRS hoped to bash Beefcake in the back with his trusty briefcase – and that's exactly what IRS did when DiBiase tossed "The Barber" into the ropes. The referee saw the blatant interference, disqualifying "The Million Dollar Man" and awarding Beefcake the victory. But Brutus didn't look like a winner as Money Inc. put the boots to him and bashed him in the face with the metal briefcase post-match – much to the protest of their own manager, Jimmy Hart.
Winner: Brutus Beefcake (4:43)
Is It A Classic: Not in the least as they kept things short & simple for the match's entirety. The post-match stuff was more memorable than the match itself – which is perfectly fine for a story-driven moment.