Background: During the war between WCW and the New World Order, NFL linebacker great and part-time Four Horseman Kevin Greene decided to be steep up to the largest wrestler on the roster in the former WCW World Heavyweight champion and NWO member, The Giant. The challenge was made and accepted, creating a unique main event.
Monday Nitro
Concord, NC
June 22, 1998
The Giant vs. Kevin Greene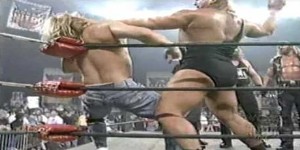 Famed ring announcer Bruce Buffer welcomed everyone to the main event before running down each man's credentials. To display how much of a tough guy he had become, The Giant smoked a cigarette on his way to the ring. Greene entered the ring like a house of fire, looking to shoulder tackle the big man. Sadly for Greene, he ran into a massive clothesline that left him prone for The Giant's big elbow drop. Taking his sweet time, The Giant eventually walked into a low blow-shoulder tackle combination that was topped by a slew of right fists aimed at The Giant's stomach. Suddenly, Curt Hennig and Rick Rude led a charge featuring the Order's "b-team" to cause a disqualification. Thankfully for Greene, fellow footballer turned wrestler Bill Goldberg hit the ring to wipe the floor with everyone while sending The Giant in retreat.
Winner: Kevin Greene (2:12)
Is It A Classic: Well, that was something. Okay, maybe it was nothing more than prototypical NWO stuff, but at least there was some satisfying post-action featuring the most popular wrestler in the company.