Background: At "Fearless", Jon Moxley took it upon himself to call out Tommy Dreamer in an effort to prove how much of a coward Tommy Dreamer supposedly was. Brian Kendrick, who took Moxley under his wing, tried to warn Moxley. After hearing Moxley's challenge, Dreamer challenged Moxley to a Street Fight.
Mercury Rising
Phoenix, AZ
March 27, 2010
Tommy Dreamer vs. Jon Moxley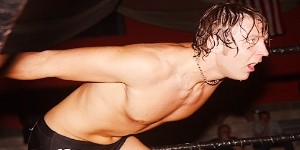 Rather than start this match kicking and punching, both men tried to outwrestle the other. Of course those intentions didn't last long, leading to a fistfight and Moxley biting Tommy's forehead. Dreamer fired back with a bulldog-clothesline combo that sent Jon to the floor for Dreamer's somersault senton off slightly elevated stage the ring sat on. Grabbing the ring bell, the former ECW Heavyweight champion got his bell run by the ring bell. Dreamer was beating his braggadocios opposition around the arena; using chairs, water bottles and even someone's walking cane to bludgeon Moxley.
Returning to the locker room, Tommy Dreamer retrieved a pair of trashcans. Tommy pushed his opponent back in, looking to come flying off the top rope with a trashcan shot. Moxley shook the ropes in time to save himself, bashing Dreamer in the head with the trashcan once in Dreamer's possession. "The Innovator of Violence" was bleeding from his forehead as Moxley locked him in the STF. Jon Moxley had to relinquish the hold to avoid Dreamer grabbing the ropes. This proved detrimental for Moxley as Tommy recovered and tripped his opponent into the Texas cloverleaf.
Dreamer went to grab a chair when the submission failed to bring him a victory, setting it up for that drop toe hold into the steel chair. Moxley reversed the position, sending Tommy face first into the back of the chair. Yet, somehow, Dreamer recovered and hair pulled Moxley into chair. Suddenly, Moxley's second/girlfriend Christina Von Eerie entered the ring to assault Tommy. Of course this led to a Tommy Dreamer piledriver on Von Eerie. Before "The Innovator of Violence" could capitalize on the mayhem he had caused, Moxley's fellow Kamikaze member YAMATO attacked Tommy. Dreamer disposed of YAMATO, only to be Death Valley driven into the mat by Shingo. Moxley slipped into the ring, going for the pin … to gain a two count!
Moxley missed a wild chair swing, taking a piledriver as well. Jon Moxley valiantly kicked out of Dreamer's follow up pin attempt, avoiding the Death Valley driver before hitting a DDT on the steel chair. The fans boos increased as the referee counted Dreamer down before Moxley was declared the win via pin fall.
Winner: Jon Moxley (12:32)
Is It A Classic: Pretty much a one-sided beating of Moxley. Tommy Dreamer was almost a world-beater before the numbers got the better of him. While not the best match, it was entertaining while it lasted thanks to Moxley taking Dreamer's punishment like a champ.