Background: As a way for New Japan Pro Wrestling to unify eight junior heavyweight & cruiserweight titles from several different promotions, the J-Crown tournament was created in 1996 featuring such wrestling legends as The Great Sasuke, Shinjiro Otani, Negro Casas and the two opening round opponents in Jushin "Thunder" Liger & Ultimo Dragon.
J-Crown
Tokyo, Japan
August 2, 1996
Ultimo Dragon vs. Jushin Liger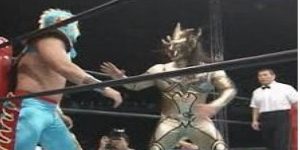 The initial collar & elbow tie up resulted in a stalemate when the two tumbled into the ropes. The pace quickened with Dragon not only dropkicking Liger to the floor, but also following up with a tope that drove "Thunder" back first against the steel guardrail. As if that wasn't enough, Dragon dove off the top rope to execute a somersault senton that slammed both men against the unprotected concrete floor. Liger could barely make it into the ring before the twenty count – where a running Dragon greeted him. Liger avoided the handspring back elbow to German suplex his fellow champion across the ring. Rather than go for the pin, Liger unleashed his capo kick to set up his first lateral press of the evening. The knife edge chop from Liger only fired Dragon up; giving Ultimo the chance to trip Liger into a la magistral. "Thunder" kicked out, only to be taken down with a drop toe hold into another pinning combination. Liger was ready, turning the pinning predicament against its applier. Dragon kicked out, rolling Liger over to pin him in shocking fashion to win both titles.
Winner: Ultimo Dragon (2:40)
Is It A Classic: Criminally short, but incredibly entertaining for the short time it lasted. Both men came in with reckless abandon and delivered a truly shocking ending. Not the classic you'd expect when seeing these two standing across the ring from each other during the heights of their respective careers, but a memorable encounter nonetheless.