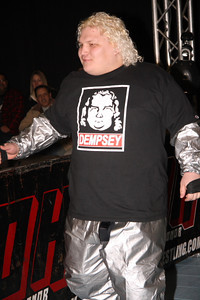 As 2007 came into existence, Ring of Honor wrestling's training school bore a man unlike any other. The opening sentence would probably give you an image of a man among men. Someone carved out of granite like The Rock with the technical ability of Ric Flair; John Cena's good looks blended into Steve Austin's ruggedness. You'd believe this man was the next big thing. But he wasn't any of those things. More appropriately, this graduate was a common man. That man was Bobby Dempsey.
Looking more like Dusty Rhodes than Dave Batista, Dempsey left the ROH Academy with hope in his heart and truth in his mind. Hope that his natural abilities will carry him to the top of ROH's card. Truth that his physical structure, lacking promo ability, and overall inexperience were things he'd have to overcome if he wanted to accomplish his dream. But like many who have had weight problems during their lives, Bobby Dempsey was a fragile child in a man's body. That mindset made young Bobby Dempsey the perfect punching bag for bullies and individuals weaker than himself. Enter Larry Sweeney and his Sweet N' Sour Incorporated group.
With the promise of fame and fortune, Sweeney lured Dempsey into signing a contract with eccentric talent agent. After witnessing Chris Hero succeed under Larry Sweeney's tutelage and Mike Sydal go on to become Evan Bourne in WWE, the rookie Bobby Dempsey saw nothing but great days in his future. Sadly for Bobby, he wasn't brought in to be just another Larry Sweeney project, but a whipping boy for the team.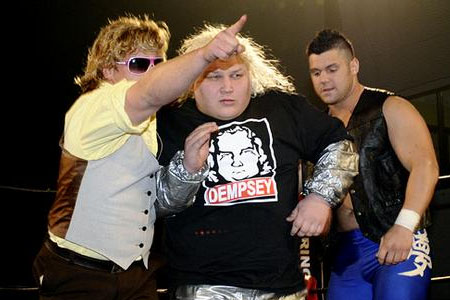 By the summer of 2007, Sweeney, Hero, Sydal, and their personal trainer Tank Tolland took pride in humiliating Dempsey during various supposed training videos. Dressed in a silver, vinyl sweat suit, moments like Dempsey being the horse to Tolland's wheelchair chariot, having food being shoved in his face, soda spit on him and forced to take ice bathes in metal barrels were the norm during these physical, verbal, and mental abuse sessions. Outside of the sympathetic, yet somewhat voiceless fans, Dempsey did have someone to help him. The other member of S N' S Inc. was none other than one of the world's best in Sara Del Rey. Del Rey was always there to pat Bobby's head, give him a helping hand when he couldn't get up, and be the support system he needed when everyone else turned their backs to him. If there was one thing keeping Dempsey going during this time, it was Sara.
But like all good things, Sara Del Rey's compassion for Dempsey came to an end in the spring of 2008. After taking some time off from ROH, Del Rey returned with a new, more evil persona. This new Del Rey had no time for Dempsey's weak ways; even helping abuse the poor soul.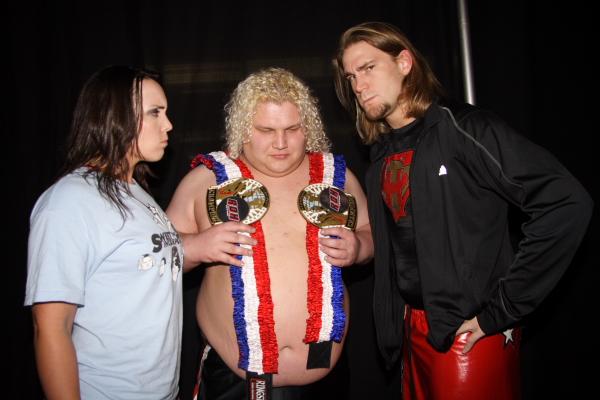 The fans were starting to get restless watching a young man looking to make something of himself be ridiculed and physically hurt by people claiming to be helping him. In each town ROH visited, "Bobby!" chants would start. Though the fans' reaction caused more abuse than not from Larry Sweeney, it was obvious the showing of support delighted and encouraged Bobby Dempsey to press forward and not give up. Even the ROH wrestlers had gotten sick of Bobby Dempsey's treatment at the hands of Sweeney and his crew. Men's men like Brent Albright, Roderick Strong, Jay Briscoe and Erick Stevens tried to convince Dempsey that he man up and stand up for himself.
Though he seemingly knew what needed to be done, Dempsey couldn't find the strength within himself to complete that goal. Even when Sweeney tried to force Bobby Dempsey on the unconscious body of "The First Lady of ROH" Allison Danger, Dempsey couldn't fight back.
It would take something monumental for Dempsey to follow the advice of men he looked up to. ROH hosted its first pay-per-view of 2009 in Chicago Ridge – home to some of ROH's most defining moments including the departure of CM Punk following his ROH World title run, the escalation of the ROH-Combat Zone Wrestling war, the first ROH Ladder match and subsequent debut of the super group known as The Age of the Fall. The main event that evening was a Steel Cage match pitting Sweet N' Sour Inc. versus a contingent of ROH stalwarts and rising stars – including Roderick Strong, Jay Briscoe, Brent Albright, and Erick Stevens. Being Sweeney-owned, Dempsey had no choice but to enter the fray. Looking across the ring at men who sacrificed their time and bodies to bring the man out of Bobby Dempsey, the pudgy grappler refused to give his all. By the match's end, Sweet N' Sour had fallen, Bobby Dempsey was bloody, and Larry Sweeney couldn't believe his contingent lost.
Of course, the blame fell on Dempsey's shoulders. In Sweeney's eyes, Bobby Dempsey was the only reason his team lost. Bloody, battered, and now being berated stood Dempsey as the crowd cheered for him to fight back. Only several feet in front of Dempsey stood several ROH wrestlers echoing the fans' sentiments. For the first time since we'd seen him enter a ROH ring, Dempsey showed what kind of man he could be. The onslaught of fury, rage, and agony aimed at Sweeney came forth in the form of Irish whips against the cage, slams, cannonballs, and a Death Valley Driver.
Like any great story, the hero – Dempsey – stood before the cheering people; soaking in the adulation for doing something so many others can't. Though Dempsey suffered, he also persevered. The young man who survived the rigors of training to become a wrestler went through an even worse beating when he left the ROH Academy's structured environment and entered "the real world". While Dempsey didn't win any ROH gold following that night or become one of the company's biggest stars, Bobby Dempsey left an inedible mark on ROH and its fans. Bobby Dempsey was a victim who refused to let his victimization drag him down to a point of no return.