If it takes too long to win a championship/trophy/award, create your own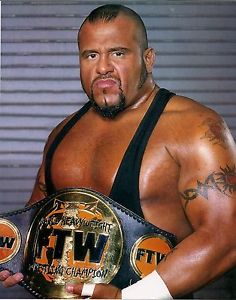 Like any form of sports to be the best of the best you have to have some kind of championship to your name. From rings to plaques, in professional wrestling there are many types of achievements. But nothing makes you truly a top wrestler more than a championship belt.
In Extreme Championship Wrestling, the company's Heavyweight title was, of course, the organization's top prize and looked upon by many wrestling fans as the real man's title in wrestling thanks to the hardcore aura of ECW. During 1998, "The Franchise" Shane Douglas continued to dominate the competition to keep the gold around his waist. But injuries and fatigue took its toll on Douglas just as the former ECW Tag Team and Television champion Taz was rising to potential Heavyweight champion status.
Thanks to Douglas' injury and feeling that Taz wasn't worthy of a title opportunity even when he was somewhat healthy, Taz created his own Heavyweight title – the FTW (or Brooklyn) Heavyweight championship. Though not sanctioned as a real title in the company, Taz would headline events while defending his title belt against rivals like Sabu until the point where fans believed in Taz a Heavyweight champion more than Douglas (made even more true when Taz defeated Shane Douglas for the real ECW Heavyweight title before unifying his FTW title with the ECW title).
So if you're ever in a position where, as a potential challenger to someone's championship, you're not given the opportunity to prove yourself worthy of champion status or just can't win the big one, create your own title and people will eventually believe you to be the champion you see in the mirror every day.